A heart warming feedback from a client, where working closely with her saddle fitter Lisa Hoskins from Bespoke Saddles has really made a difference for Jemima in helping with her leg support, by creating a custom front and back blocks for her –
My name is Jemima and I am a para dressage rider following a very serious car accident in 2015 which left me paralysed from the waist down. Before the car accident I worked in the equine industry for many years. I was a head girl and second rider for a 5* eventer and produced my own horses as well as had the opportunity to compete for owners. I absolutely loved what I did and never looked at it as a job, it's a lifestyle and my passion.
I suffered from many very serious life-threatening injuries which shockingly meant that the doctors had prepared my family for the worst as I was given only a 5% chance of survival after numerous resuscitations. The most life changing was a complete spinal cord injury at my waist, so I have no movement or feeling from that level.
I was told that there was no way that I would be able to ride again but for me that wasn't even an option. I think I was very naive at first as I hadn't really understood all the different complexities to a spinal cord injury. I couldn't even sit up without falling backwards of collapsing forwards where my balance was so compromised.
It has taken a lot of hard work, rehab and time to get back riding, but it really is the best feeling to be back out there. I am very lucky to have so much support from so many people to help me. Once I had really got going then I was able to work out any adaptions that I needed to help aid my body when I ride. I mainly needed something that was supportive of my legs.
The saddle that Bliss has made me is the most comfortable and helps get me in the best position possible. My saddler Lisa Hoskins did a fantastic job at measuring Diamanti out, so it also is the best fit for her. She really took the time to analyse me when I rode and then to liaise with Bliss about what we needed. They were so helpful to do whatever we needed, and the saddle is just perfect. I have Velcro back thigh blocks to help stop my legs from bouncing off the saddle, but it also helps to keep my hips in the correct position. These blocks are very easy to get on and off so when I mount and dismount, we take them off so they don't get in the way. It also means someone else can ride in the saddle and they won't get in their way.  I also need a hard hand hold for security if I was to lose my balance so Lisa, her farrier and Bliss all liaised to make sure it went in the correct position and sent the leather to match the saddle.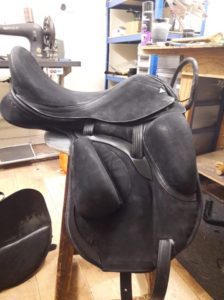 I am so happy to have it as now I can get back on Diamanti with so much confidence that my body is secure and get going with her, Very shortly after getting it I managed to take her to a training weekend at Hartpury which was just so good to get our partnership kicked started again. I am hoping to take her to a competition at the end of July and start running her alongside my newer horse Jools who I am taking to our first international competition at Bishops Burton in August.
I love my saddle so much that I have just put an order in for a second one!!