There are always regular posts on forums regarding saddle fitters, however one of my biggest frustrations is them being referred to as 'saddlers'. Now this is not the fault of the equestrian world if the difference is not explained to them! However there is a big job role difference here – so listen up!
A Saddle Fitter is someone who can check an existing saddle fit and make flocking adjustments if need be. Most but not all will also sell new or used saddles. They will most likely run their own business and are classed as 'independent' carrying multiple brands of saddles with no allegiance in particular to any one brand. This will give you a better selection of saddles in order to find the correct option to suit your horse and yourself if looking to purchase a new one. Saddle fitters should not be there to simply sell you a new saddle. They will also offer after sales service, with regular checks and adjustments.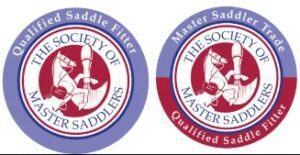 Saddle fitters are there to provide advice in the same way you would expect to receive it from your vet, physio, farrier or trainer and will often welcome the opportunity to work in conjunction with them to help resolve problems and issues for the greater good. A slipping saddle for example could be anything from 'a saddle issue' to a horse with muscle atrophy, lameness, rider stiffness or even imbalanced hoof issues. Your experts are best when working together as a team. A saddle fitter will not give a veterinary opinion but may suggest you consult your vet in the same way that you wouldn't expect your trainer to give you saddle fitting expertise, unless of course they are qualified in both!
Whilst there are currently no legal requirements needed to offer services as a fitter (unlike veterinary etc) there are several recognised international INDEPENDENT qualifications out there. Not to be confused with the many 'certified' courses that are often a week long and self regulated by the saddle brand companies that offer them.
The Society of Master Saddlers (known as SMS) is the most recognised internationally. Look for the badge and note the difference between Master Saddler and Quailfied Saddle Fitter
www.mastersaddlers.co.uk
Master Saddle Fitting Consultants (known as MSFC) is another independent qualification.
Don't be afraid to ask your fitter what qualifications they have, or perhaps they are currently training under the SMS towards qualification and will be receiving regular CPD, this is a minimum of a 3 year process.
And then we have Saddle Reps who are generally employed by the brand that they represent and therefore will not carry a wide range of saddle brand choice. If you purchase a saddle your sale will likely go directly through that company. They may not be able to offer assessment or any adjustments on other brands of saddles and the saddle fitting training may limited and less extensive than the above.
Saddle fitters and 'reps' are two very different entities!
Saddlers on the other hand have a very different role. A saddler is someone who can make a saddle, repair a saddle but is not necessarily be qualified to fit it, they may also produce other leather associated items. Within the trade/factory element of saddle making most saddlers will rarely leave their benches or get involved with fitting, however this takes nothing away from them as highly skilled craftsmen. Outside of the trade you have independent or rural bench saddlers who most likely have learnt their skills due to a background passion for horses.
Again there is no legal requirement to be able to call yourself a 'saddler' but the SMS offers a route from apprenticeship to full Qualification as a Master Saddler.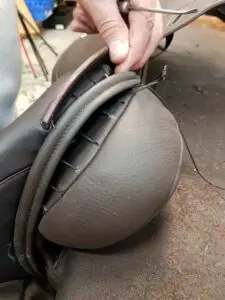 Finally you may be one of the lucky ones that has the best of both worlds and your go to "saddle person" has taken the time to train and qualify as both a Qualified Saddle Fitter and a Qualified Master Saddler!