Q: How do you determine seat size?
What a great debate, seems especially topical at the moment as well!
Let's get one thing straight to start with seat size is determined by the size of your backside/ass/butt/derriere however you wish to describe it but certainly NOT your height!
We come in all shapes and sizes, the typical tall and skinny dressage rider type, the female forward rugby player type, the Kylie Minogue petite jockey or as we like to sometimes call our horses in show condition ie chunky monkey type.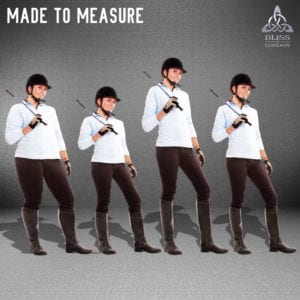 So with this is mind we may have the dressage rider and the jockey both in the same seat size depending on the size of their backside. It is a little like clothes sizes think of jeans for example it will be the same waist size or in the UK 10/12/14 etc however there would be a tall and a petite option. However differences will come with the build of the flap which could potentially need to be longer, shorter, straighter or more forward. I will come back to more details on flap options later.
The saddle seat itself ultimately needs to be comfortable for you. That's the key, a little like trying on a new pair of shoes, sitting in it for the first time and going hmmm with a smile! That is something only you can decide no one else knows what you are feeling.  Riders need to find a seat that will allow them to find a natural balance some prefer more open and free, others prefer the reassurance and comfort of a closed seat for extra support.  For example and obvious reasons the gents tend to prefer a little more room too! Try different seat options and talk to your saddle fitter about it.
Whether it a dressage, jump or GP you are likely to need the same seat size in each model, but as again with clothes, different brands can vary slightly so this is not a set in stone measurement. And of course if you choose to lose or gain weight this is going to change the dynamics of how the saddle fits and feels as well.
Don't forget seat types vary, dressage saddles have higher cantles so have the deepest of seats, a GP in usually a midway point and then the Jump seats are much shallower coming as flat as an Eventer saddle which allows for much more freedom and movement in the seat – from experience needed out on the cross country course! So the same seat size is not going to give the same feel or support in different models and sometimes these can be changed or mixed.  It is not uncommon to make dressage saddles with GP cantles, many classical riders prefer a shallower seat and we have made these in the past to help Para riders with difficulty get on with high cantles.
I will get shot for this comment but hopefully you may find it comical, dressage riders can tend to be a little more princess and the pea, I wasn't the one to invent the term "Dressage Queen" whereas the eventers tend to be more "gung ho" and ride in anything, "what saddle"!!
The seat being large enough for you (the correct size) will help to spread a more even weight distribution for your horse, there is nothing worse than seeing a rider jammed into the smallest saddle they can and end up sitting on the back of the cantle putting the whole saddle out of balance with all of the pressure in the back. I can't count the amount of times people have been obsessed about having a smaller seat size, who's judging, we don't wear size labels on them!
Then of course there is the issue of the horse either having a particularly short back length or not being big enough for the rider (it happens – or should I rephrase it as the rider being too big for the horse of course) so in these instances there are adjustments that can be done with the panel length but more often than not finding a flatter cantled seat that gives more room and comfort for the rider is a solution if they are having to compromise with a smaller saddle than ideal.
So back to flap length. There is always the option to do longer or shorter flaps, but before we throw in the height conundrum we need to consider the length of stirrup that is used.  It is typical for dressage riders to go for the longer position but in some cases riders are maybe new to dressage and feel unbalanced having only ever been in a GP or Jump saddle. Riders with arthritic or hip issues often will find it more comfortable to be in a shorter stirrup position.  In such cases flaps can be angled or of most use Velcro blocks which can potentially be moved as the rider progresses and changes their positon.  It is far easier to demonstrate the angle scenario with Jump saddles.  Another pet hate is this "hip to knee" measurement what nonsense! So take for example you are William Fox Pitt tall, long legged, experienced, eventer rider you are going to have a short stirrup length (in his case otherwise he could probably tie his legs together underneath!) so yes you are going to need a more forward flap probably even x2 more forward and at what we term as 9 oclock position.  However you be the same build and just switched from dressage to jumping so the angle of your leg will be much less and therefore the most forward point of your knee will be lower down requiring a more 8 oclock forward flap.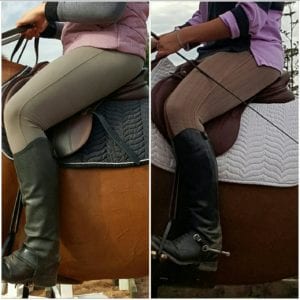 Just because you are tall does NOT mean you need a bigger seat, you need a more forward flap to accommodate your leg length not the size of your backside.  Years gone by this was however often a solution  when manufacturers didn't offer more forward flaps, which is why you may still hear it banded about.  In more recent years thankfully our understanding of saddle fitting and manufacturing has increased advanced for benefit both the horse and the rider.
Author: Nicola Newcombe