Leather Options
Leather, colours, styles and designs
There are many options when choosing the colours and leathers for your new saddle, hopefully this little step by step guide will help.
COLOUR
Initially you will want to choose the base colour for your saddle.  You have a choice of Black, Cocoa, Claret and Cognac.  Most often you will want to match your current bridle or girth but you may fancy a complete change!
Leather is a natural material and as a result the many different types of leather that we use for their strength and properties may not be an exact colour match across all pieces but will be a palate of the same tone.  Also batches of leather can differ slightly each time as they are naturally finished, so if you are working from swatches or pictures please do be aware that there may be some variance.

You may want to 2-tone your saddle and most often this will apply to the seat and knee pads, so for example you can have a Claret saddle with Cocoa seat and pads. (no extra charge)  Unless requested all other parts including: facings, straps, gussets, panels with remain in the base colour.  We also offer contrasting facings front and/or back, these can include colours, patent leathers and others – at an additional cost.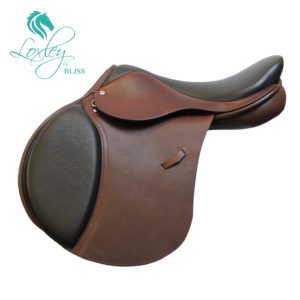 LEATHER
The types of leathers used are standard for each model.
The Loxley twin flap and LX models all use Antique for the flaps and skirts with Full Grain Hide for the seat, pads and panels.
You may wish to upgrade the seat and pads to French Calf or Nubuck at an additional cost.
The Loxley Mono flap range is fully covered in Calf Nappa.
The Bliss Paramour, Sportiva and Liberty Collections are fully covered in French Calf.
The Bliss Regency Collection uses the Heritage leather for flaps and skirts with Calf seat and pads
Antique – our signature buttery soft and supple solid leather, provides an instant broken in feeling whilst maintaining the hard wearing properties for the flaps and skirts.
Full Grain – our selected hide used for seats, pads and all panel work.  Full grain describes it natural state and does not have an artificial finish added to it.
French calf – which is renowned for its luxurious softness and suppleness.  French calf leathers have the natural marks of showing the authentic features of this living material that grow in beauty each day. The hides are mineral tanned, vegetable re-tanned and drum-dyed to specification.  the leathers become soft and smooth to give a natural aniline full grain finish.
Nubuck hide – with its fine velvety nap surface and incredible tactile properties, as with suede this will wear over time but adds to the softness and beauty.
Heritage leather – for a more traditional and classic finish.  This leather is traditionally tanned, drum dyed and hand finished to facilitate the colour of the flesh and grain which results in a deeper colour and therefore better finish to the leather. The leather is subjected to many coats of this oil to ensure a rich affect and change to the base colour. A leather that will readily take conditioning is favoured for the American market.
WELTING
With all saddles you have the choice of selecting your colour of welting or sometimes known as piping.  The is the seeming that runs either side of the seat and around the back of the cantle.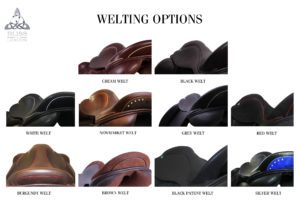 STITCHING
With the exception of the base models you also have the choice of feature stitching colour.
Unless stated all of the above options are included within the standard pricing.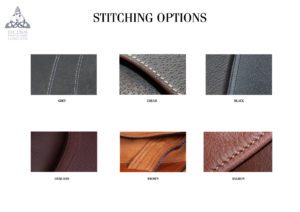 FINISHING TOUCHES
Finally if you would like to be a little more individual and choose something more unique there are lots of options to choose from:
Cantle designs
-Swarovski
– Mock exotic leathers
– Authentic exotic leathers (cities agreement)
– prints
– stamps
– cantle badges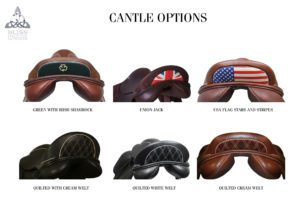 We offer many other features that you can view in our extensive galleries, but if you do not see what you are looking for please do ask your fitter or contact us with your own ideas.